What We Do
We support large, enterprise-wide initiatives in the vice chancellor for finance and administration's project portfolio. In partnership with senior leadership, we manage and deliver complex projects that impact units across the institution, engaging with campus partners throughout the project lifecycle to:
Research, analyze, and develop business cases for potential large institutional investments.
Increase project efficiency and effectiveness to ensure successful project completion and maximize benefits to campus.
Align projects with our partners' existing strategies, goals, and culture.
Improve management of project resources.
Support evolving project needs by implementing flexible strategies and management techniques.
Ensuring Success
We provide guidance and expertise to support the key aspects of successful project delivery identified by Prosci, the global leader in change management solutions: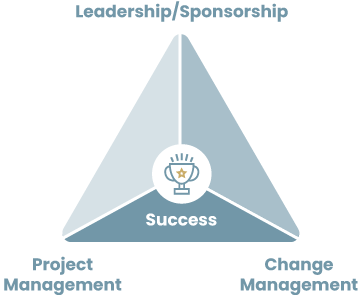 Graphic Adapted from Prosci®
Key Initiatives
Learn more about the campus strategic initiatives and campus partners we are supporting.
Access Controls >
The UW–Madison Police Department is leading efforts to modernize access control software and access points to more than 150 campus buildings, creating a safer campus with up-to-date controls.
Administrative Transformation Program >
UW–Madison, along with all other UW System schools, is standardizing human resources, finance, and research administration business processes through the implementation of Workday and Huron Research Suite, two integrated, cloud-based technology systems.
Business Process Integration & Planning
UW-Shared Services and UW–Madison's Administration Innovation & Planning are collaborating on an end-to-end analysis of the business processes deemed out of scope for the Administrative Transformation Program and recommending solutions and operating models that will achieve the desired UW System and UW–Madison division-level business outcomes.
ChemManager+ Implementation >
As a tie-in to UW System's new cloud-based purchasing and payables platform, ShopUW+, UW–Madison is implementing a new software tool for managing chemicals. ChemManager+ ties a robust chemical tracking system to the enhanced purchasing tool to aid in safety and risk mitigation. The new platform will support research, instructional, safety, and risk staff in their work.
Cloud Data Warehouse >
UW–Madison is modernizing and expanding the capabilities of its current enterprise data warehouse, InfoAccess, by migrating to Badger Analytics, a modern cloud environment that is organized, integrated, and documented.
Event Management System Consolidation
The university is conducting a current-state assessment of event management on campus (including software tools that support event management) and exploring possible improvements for campus users.
Library Collections Preservation
Facility >
In anticipation of the construction of the $33 million state-of-the-art Libraries Collections Preservation Facility in Verona, Libraries staff are working with FP&M to develop and implement a plan for the movement of library collections.
Organizational Climate
and Administrative Quality
Satisfaction Surveys
The Office of the Vice Chancellor for Finance and Administration (VCFA) and the Provost's Office have been leading efforts to collect and analyze data from faculty and staff to help improve overall satisfaction with UW–Madison's organizational climate and administrative services.
Real Estate Initiatives >
A joint working group comprised of members from UW–Madison and University Research Park has begun a visioning and district planning process to leverage UW–Madison's real estate assets to their highest and best use. The Office of the VCFA, in collaboration with FP&M and the School of Medicine & Public Health, has also planned a symposium with experts from peer institutions and private industry to learn how to leverage facilities management best practices to accelerate innovation and research at UW–Madison.
School of Computer, Data & Information Sciences Enablement >
FP&M has been leading efforts to make way for the new Computer, Data & Information Sciences building construction, which has required the coordination of 60 related projects to prepare and relocate campus spaces, trade shops, and other offices.
Title & Total Compensation Project >
The Office of Human Resources is developing a long-range plan to ensure job titles and salaries keep pace with the market, address existing compensation challenges, and improve data. This second phase of the Title and Total Compensation Project will enhance career growth visibility and explore additional employee benefits options with the state legislature.

What Our Clients Are Saying
I didn't want to miss this chance to say a big 'thank you' to the relocation team at FP&M, along with employees from the Office of Strategic Consulting. Your work to accomplish one of the most complex moves in the history of this campus has been nothing short of extraordinary.
You've met every obstacle with creativity, every new wrinkle with flexibility, and every long day with an unwavering commitment to doing the highest quality work.
We knew we had the right team in place when, from the very start of the project, you explored the options and chose not the easiest plan, not the plan that would require the least amount of your time, but the most complicated one, because that was the one most beneficial to the entire university….And all on an accelerated timeline to keep the CDIS building project on track and on budget….
-Excerpted video remarks by Chancellor Emeritus Rebecca Blank