The Challenge
Your organization's culture and climate—the shared values, norms, emotions, and perceptions that influence how people in your organization experience the workplace—directly impact your ability to function effectively and carry out your mission. That's because people are central to your work, whatever that work may be. A bad organizational culture can hinder even your best-laid strategy and goals. Creating a more just, equitable, diverse, and inclusive work environment, where everyone feels like they belong, promotes partnership, collaboration, and innovation.
We create safe and inclusive spaces where people can share their experiences and observations about working for and with your organization.
We help illuminate patterns in how people in your organization feel, behave, and engage with one another.
We work with you to create a shared vision for the future and help you build the knowledge and skills to sustain good culture moving forward.
How can we be a
resource for you?
What You Can Expect
A typical engagement focused on enhancing your organization's culture and climate will include some or all of the activities below, based on your unit's unique needs. We provide change management support and work with you to engage your key stakeholders throughout the process.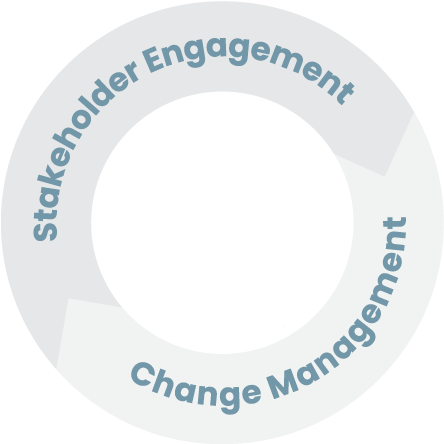 Enhancing Culture & Climate
Define vision,
values, & operating
principles
Develop process
for ongoing
communication
Assess current
culture &
climate >
Collect climate
data using a
combination of
interviews, surveys,
and/or focus groups
Investigate current
cultural norms
Envision desired
future climate
Design desired
future state
Build
knowledge
& skills >
Create a shared
language around
culture & climate
issues
Cultivate new
cultural norms
Establish a system
for continuous
learning
Plan &
implement
changes >
Create a roadmap
of actions to
positively impact
organizational
climate
Establish systems
of accountability
(self and others)